About Pradeep Anand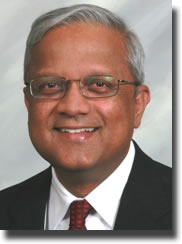 PRADEEP ANAND helps business leaders create their legacies of Excellence in Business Growth.

After a dozen years of successful commercialization of new technologies in the oil industry—3D Seismic Visualization & Interpretation, Logging-while-Drilling, and Production Automation—he founded SEETA RESOURCES to help global engineering and technology companies accelerate their revenue growth and enrich their margins.

He is an Adjunct Faculty member at the Jones Graduate School of Business, Rice University. He teaches Marketing Management in the Energy Industry, in the MBA program.
Before founding Seeta Resources, he was Vice-President, Marketing at Landmark Graphics, a Houston-based oil & gas technology company—currently, a division of Halliburton.
Prior to that, he was Manager, North American Operations at a division of Baker Hughes, and the first marketing and business development manager for LWD/MWD at Sperry-Sun (now a Halliburton subsidiary).
Later, He was a Co-founder, President and COO of PointCross, Inc., a technology startup. He has been a successful executive search consultant at Preng & Associates, the premier executive search specialists for the global energy industry.
Pradeep speaks (Click here for his Speaker Bio) at business conferences and at company events, and has published extensively in leading industry magazines and journals, and newspapers (Click here for his articles).
He currently serves on the Advisory Board of University of Houston's College of Technology, and India Studies program. He was an Adjunct Professor of Marketing at University of Houston's Bauer College of Business' MBA program.
He received his MBA from the University of Houston, Houston, Texas, and his BS in Metallurgical Engineering from the Indian Institute of Technology (IIT), Bombay, India. In 2001, he received IIT Bombay's Distinguished Service Award.
He is a founder of the IIT Alumni of Greater Houston.
He was Program Chair of a very successful IIT 2013 Global Conference, which was held in December 6-8, 2013, at the Hilton Americas Hotel in Houston, Texas, USA. This conference attracted 90+ world-class thought leaders, who shared their wisdom with 1600+ attendees, over a span of 70 hours. The conference was supported by 85 adult volunteers, 120 high school students, 100 sponsors and partners.
Click here to see IIT 2013 Global Conference Program Videos' Link List.
His novel, An Indian in Cowboy Country: Stories from an Immigrant's Life, was published in 2006.

For more information, please contact seeta at seeta dot com